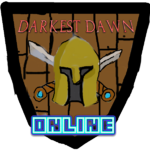 Once upon a time, there was peace. Knights saved princesses and cows grazed on fields, watching the life cycle go by. But that was long ago. Darkness has swept over the land, crushing everything in its path. Almost all of the realm has been swarmed by monsters and corrupted, and only a few gallant heroes remain and are soon to face the Darkest Dawn. Will you help them, or will you let the World die? The choice is yours.
Official Trailer: https://www.youtube.com/watch?v=-ol_y6G2ygQ
Check out our forum here!
Also take a second to visit our Discord here!
Features:
Already introduced:
-FREE
-Online
-PvP Arenas
-PK System (WIP)
-Woodcutting
-Pets (just one for now)
-4 playable classes
-A massive world
-Small storylines and sidequests
-Active staff team of 3 people including me
-Real-time time system
-Crafting, etc
-Paperdolls for every weapon (yes these are 'borrowed' from community resources :p)
-8 realistic ranks to work your way up through to make levelling more interesting!
Planning to add:
-Real-time Weather
And more to come!
Images:
Old Images:
Credits to Tutoriwebs for the logo www.tutoriwebs.co.uk
Need help learning? Need a helpful website to get you to the top of your class and play games whilst doing it? tutoriwebs.co.uk is your answer! Simply go to google, type in 'tutoriwebs' and click on the correct result! Learning whilst playing. Tutoriwebs.