Intersect Demo Game
Spawn in a small town, familiarize yourself with it's inhabitants, and proceed to protect your new friends by vanquishing the monsters all around you.
Introduction
This game was created by @Kibbelz in order to demonstrate:
We're also using this page in order to set an example of the quality of public games in the Games section of our community.
Due to the nature of this game, expected playtime is only 2-3 hours. It is highly recommended that you grab a friend when trying to conquer this small world.
Story
There is no real story at the moment, but I can outline how the game currently works and how I hope to expand moving forward.  Immediately after creating your character you spawn washed up on a beach.  You have no memory of your past, your family, where you came from, or how you got to this strange little town. You don't have any money, or food, and you're lucky a random guy on the beach is willing to part with some of his clothes. You're stuck in this little town, so you better get accustomed to it.
In our Demo Game you will be given various quests that lead you out into the forest to the west, the graveyard to the north, and the cave to the south. In each of these locations you have loot to find, mobs to kill, and bosses to conquer. If you look around you will find the alter-egos of many AGD veterans including myself (JC), Kibbelz, Damian, Panda, Zetasis, Murdoc, Geroge, PixelFox, and more -- we all have short little quotes about the game and our game dev community.
Once you conquer the bosses in each of the PvE areas you've beat our game, but don't take on that task lightly, it is super hard to kill mobs in our game -- we've designed it this way to keep people playing/grinding in hopes that they would play longer and help us discover more bugs in the Intersect engine itself at the same time.
We highly recommend you bring a friend into this little adventure, and let us know what you think in our discussion boards. 
Continued Development Plans
Moving forward we are hoping to bring in some music and sound effects to help with the games' immersion.
We will be replacing the GUI as soon as Intersect B6 is out
We are always looking for other game designers who might want to assist with expanding our world,.
We are working on sculpting a real storyline for everyone to play.
More!
Media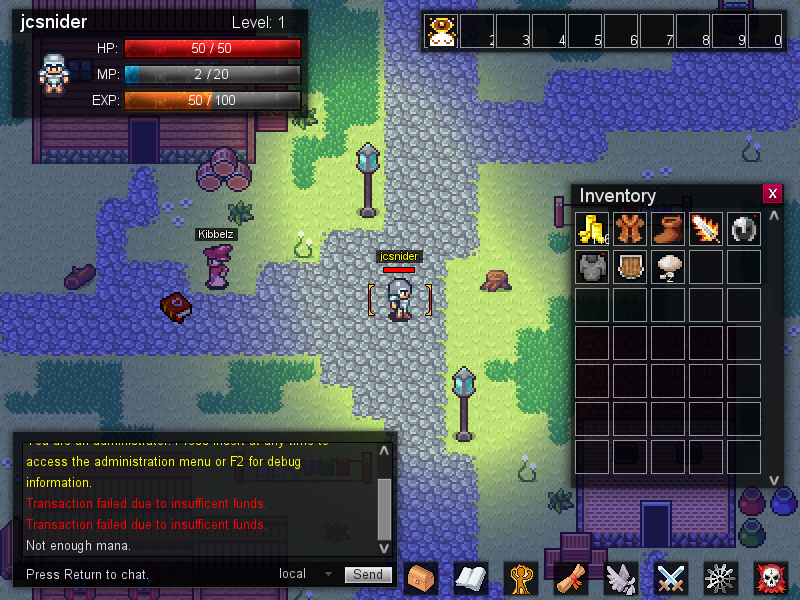 Updates
November 14, 2018
Fixed the following:
Quests (Killing npcs now tracks progress)
Bags
Banks
Parties (You can kick party members now)
Crafting
Trading
Friending
Kibz's Spelling!  -- "developper"  
Fire Sword - Now two handed as advertised
Crashing on logout when in a party
Incorrect Spell Cooldowns
Mac and Linux Support of the Client
Various server crashes that would lead to "lost connection" errors.
November 12, 2018
Re-released the Intersect Demo Game for Stage 1 testing of Intersect B5.
Download
Click here to visit our downloads page!